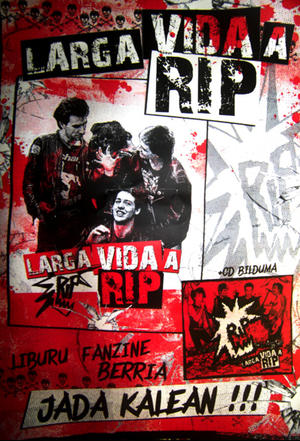 LARGA VIDA A R.I.P (LIBRO + CD)
Se trata de un fanzine/libro de 376 páginas que reconstruye la trayectoria de la banda a partir de los testimonios de Txerra y de muchas de las personas que estuvieron al lado de R.I.P. Un relato crudo y feroz que narra las vivencias del cuarteto de Mondra, contextualizado en la Euskal Herria de los 80-90.
Prólogo escrito por Jabi Destruye! y testimonios de: Txerra RIP, Jabi Destruye, Nabo Cirrosis, Niko MCD, Jou, Miguel Anti-regimen, Nekane, Isa IV Reich, Mac, Porru Cirrosis, Joni Destruye, Richard Brigada Criminal, Kopi, Pikotas Odio, Mamen Vulpess, Boliche Frenopàticss, Poti Cicatriz en la Matriz, Claus Vómito, Txus, Iker Barandiaran, Sílvia Último Resorte, Gos l'Odi Social, Marijo, Evaristo La Polla, Okene BAP, Dieguillo Quemando Ruedas, Mikel BAP, Txabi Abrego, Podri Rat-zinger, Kaki Arkarazo, Sala Strummer, Igor The Potes, Juan Carlos Azkoitia, Pottoko Never Surrender, Magu Des-Kontrol, Arri Never Surrender, Trullo, Sisa Antidogmatikss, Iker Karrocerias Betoño, Pela PiztuPunk y Belen Karrocerias Betoño.
Además incluye recortes y entrevistas, discografía completa, crónica del concierto homenaje a Jul y un CD Recopilatorio con 27 temas versionados por: Arkada Social, Andanada 7, Eskupe, Parianoix, Piztupunk, Never Surrender, Rat-Zinger, Ignotus, Karbunko, El Sonido de la Metralla, Kabreo, Punch A, The Potes, Sensa Yuma, Ansiolitikos, Atrako A Mano Armada, Des-Kontrol, Enatizo, Disface, Habeas Corpus, Dirty Brothers, Totälickers, The March y Emboskada. Entre estas destacan dos temas inéditos de R.I.P grabados para la ocasión por Txerra junto a miembros de Never Surrender, Yoko y Sala Strummer.
LARGA VIDA A RIP!!!
PVP: 12,00€